Out of date data 'turns shoppers off'
Written by Peter Walker
09/10/19
Despite the hype around technologies such as augmented reality (AR), virtual reality (VR) and the Internet of Things (IoT), consumers place greater value on retailers doing the basics well, according to a report from MuleSoft.

The application network platform surveyed more than 9,000 consumers, finding that retailers still have difficulty delivering the connected shopping experiences that shoppers expect.

The research revealed that 80 per cent of consumers said out of date or inaccurate data - stock availability, delivery tracking information - would make them likely to shop with an alternative retailer next time.

The most important factors in determining retail customer loyalty were cost (63 per cent), the accuracy of inventory availability, or real-time delivery information (41 per cent), in-store customer experience (40 per cent) and consistent experience across in-store, online and mobile (36 per cent).

Meanwhile, 60 per cent of consumers said they would consider changing retailers as a result of receiving a disconnected experience – an increase from 57 per cent in last year's study.

MuleSoft found that younger consumers are more willing to spend with retailers that provide a more digitally connected in-store experience. Consumers aged 18 to 34 years-old (49 per cent) were most likely to spend more, compared to those aged 35 to 54 years-old (33 per cent) and 55 or more years-old (16 per cent).
Among younger consumers, MuleSoft also suggested there is an opportunity for retailers to deliver a more personalised experience through targeted offers and customised products.

Half of consumers would be willing to allow retailers to share relevant personal information with partners and trusted third parties, to receive a more personalised customer experience. More than two-thirds (69 per cent) of 18 to 34 year-olds would share information for personalisation, double that of consumers aged over 55 (33 per cent).

Almost a third (30 per cent) of people overall said they would spend more money with a retailer that used technology to provide a more digitally connected in-store experience this Christmas, than one that does not. Real-time visibility into stock availability (37 per cent) and buy online and pick up in store (37 per cent) were the in-store experiences consumers most hoped to see.

David Chao, vice president of product marketing at MuleSoft, commented: "Despite the hype around how technologies like AR/VR and IoT are going to transform retail experiences, consumers continue to value service above all else.

"Being able to provide consumers with accurate, real-time inventory and delivery tracking information should be a prerequisite, yet it remains a challenge for many retailers who have siloed legacy systems."

While there is a lot of technology innovation being talked about in retail, the research shows that not much of it is actually being seen in local stores.

The survey showed that 44 per cent of consumers hadn't seen technology innovations - cashierless stores, mobile-driven in-store experiences, personalised offers, interactive displays or AR/VR - at their local retail stores.

From the technology innovations listed, cashierless stores (29 per cent), mobile-driven in-store experiences (19 per cent) and personalised offers (19 per cent) were the most commonly seen in local retail stores.

This global survey was carried out by Opinium Research during August, with a total sample size was 9,030 adults, 2,002 of which were in the UK.
Related Articles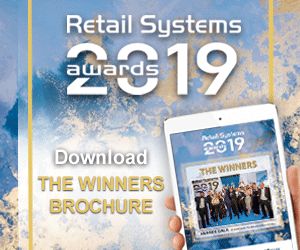 HULFT
Find out how HULFT can help you manage data, integration, supply chain automation and digital transformation across your retail enterprise.
Talking shop: retail technology solutions from Brother
Retail Systems editor Peter Walker sits down with Brother's senior commercial client manager Jessica Stansfield to talk through the company's solutions for retailers and hospitality businesses, what's new in labelling technology, and the benefits of outsourcing printing.
Most read stories...
World Markets
(15 minute+ time delay)