Retailers must prepare for 'post-channel era'
Written by Peter Walker
21/06/18
Retailers must prepare for the post-channel era, or risk getting left behind, according to the chairman of Outfittery and Made.com.

Speaking at the eTail Europe conference, Susanne Given said that the current pre-occupation with multi and omnichannel strategies would fall away in the near future.

"By 2023 around 50 per cent of consumers will be Millennial or younger, so that's a completely different mindset," she stated. "They're used to having the power in relationships with retailers and conversations with brands, they don't do physical exploration of stores like previous generations, so personalisation will be crucial for engaging them."

This post-channel era will have huge implications for the structure of retailers, according to Given, with significant investment required in data science and the recruitment of individuals with skills that are currently scarce in the job market – both of which will change the shape of organisations.

"All of this needs understanding from those at board level, which is challenging when you have a more 'old era' investor base," she commented. "There is tremendous pressure for well-loved brands, but the faster they can lean into the post-channel challenges, the better."

A panel session that followed featured several 'startups and disruptors', who had similar views on the future of retail.

James Gold, the co-founder of Skinnydip London, admitted it was a challenging time for the industry. "That makes us a little bit more cautious, but we've only ever existed in an economic downturn, so you just have to be risk averse, ride the wave and focus on building your brand," he stated, adding that with pressure on the High Street, landlords have been more willing to give small retailers pop-up spaces.

Alex Outlaw, chief marketing officer at The Idle Man, called the UK one of the toughest retail markets in the world. "Our landlord doubled the rent on our Leather Lane store, so we had to close, but I still think it's important to give people the chance to experience your product in person – just look at what Ted Baker have done with their stores."

Also on the panel was Parry Malm, the chief executive at artificial intelligence (AI) startup Phrasee, who was candid about the state of his sector. "99 per cent of AI is 100 per cent bullshit, these startups will sell you a dream, a five year plan, but nothing ever comes of it, five year plans never work well – just ask Stalin."

Outlaw said technologies like AI, virtual and augmented reality all seemed a bit far off at the moment, with personalisation the top priority. Splitit co-founder and chief executive Gil Don agreed, saying AI "is a nice to have, not a must have".

Responding to this, Malm said any company considering AI should take their time working out what the problem is, rather than hoping to simply solve it through the latest tech investment. "Don't buy AI just because it will look good on your Tinder profile," he added.
Related Articles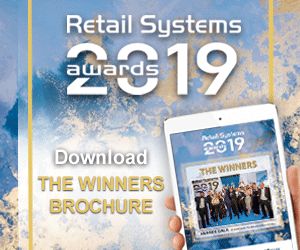 HULFT
Find out how HULFT can help you manage data, integration, supply chain automation and digital transformation across your retail enterprise.
Talking shop: retail technology solutions from Brother
Retail Systems editor Peter Walker sits down with Brother's senior commercial client manager Jessica Stansfield to talk through the company's solutions for retailers and hospitality businesses, what's new in labelling technology, and the benefits of outsourcing printing.
Most read stories...
World Markets
(15 minute+ time delay)