AR - the dawn of a new technology in retail?
Written by Elliott Winskill, Technical Consultant, PMC
22/02/2017
With all technology it is only a matter of time before it becomes ubiquitous and infiltrates every aspect of modern life; and the time is coming for augmented reality to enter the realm of retail.

A lot of people get confused between virtual reality (VR) and augmented reality (AR) – which is quite easily done – so here is a quick comparative breakdown. The definition of augmented reality I prefer is "a real-time direct or indirect view of a physical real-world environment that has been enhanced/augmented". In simplistic terms, you take the world from the view of your eyes and then using computer generation you can add anything you want into it. But how is this different to virtual reality? Well, virtual reality is the recreation of an environment, whether that be real life or computer designed. Virtual reality immerses the user into a new environment through senses like vision and hearing.

You must have heard of hit game Pokémon Go. This is augmented reality. I played it a little but got bored of the idea relatively quickly, however, it did get me thinking that it can't be the only use for AR. The retail sector must be looking at this and seeing the potential. I was pleasantly surprised to see that there are already companies pioneering the development and implementation of AR. As end users we do not want to walk into a store, put on googles and been immersed into some fabricated world, so VR is not the choice. However, the thought we can walk into store, look into the mirror and change our reflection to show us wearing different clothes, sounds pretty cool right? The technology of the magic mirror shows that in retail right now AR is growing. Another example is the specsavers.co.uk application which you can download onto your phone. The application enables you to see what glasses look like on your face, allowing you to try hundreds of glasses before you even go to store.

Let's be honest, these are cool gimmicks. However, it can go so much further. My prediction today is that augmented reality will become retailer's newest technological adoption in the early 2020s. Who needs physical items on the shelves when you can just create an augmented shelf that shows the items and allows you to change what's being shown? Maybe that is a little far-fetched for the early 2020s, but the possibilities are endless when you can use computers to augment our very reality.

Examples like the IKEA furniture application showing your front room with a new sofa in it, and the incredible IBM app which can show you an entire row of food products, are entering markets. These are early adopters – AR is still in the initial phase in the retail sector, but this is the next big development in retail.

In conclusion, we are on the way out of the internet boom and the novelty of buying online has dissipated. This means the average shopper is starting to want the physical shopping experience back. Shopping centres are experiencing increasing footfall, which could mean that initial experiments with augmented reality start appearing in our stores. Whether that be magic mirrors or applications that allow you to see furniture in your homes, reality is no longer sacred. An augmented retail world provides customers with things they didn't even know they needed. All we need now is a Steve Jobs-type character to lead the way. This is the new technology that is going to set retailers apart. So as with most new technology, watch this space…
Related Articles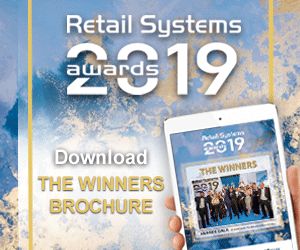 HULFT
Find out how HULFT can help you manage data, integration, supply chain automation and digital transformation across your retail enterprise.
Talking shop: retail technology solutions from Brother
Retail Systems editor Peter Walker sits down with Brother's senior commercial client manager Jessica Stansfield to talk through the company's solutions for retailers and hospitality businesses, what's new in labelling technology, and the benefits of outsourcing printing.
Most read stories...
World Markets
(15 minute+ time delay)