Amazon's Deliveroo investment 'raises competition concerns'
Written by Peter Walker
11/12/19
Amazon's investment in Deliveroo has raised "serious competition concerns" for UK customers that may require an in-depth investigation by the Competition and Markets Authority (CMA).

Amazon's UK business, in addition to its wider online marketplace, includes a range of grocery offerings through Amazon Prime and Prime Now, Amazon Fresh and Whole Foods Market.

Meanwhile, Deliveroo has grown rapidly since being founded in 2013 and now operates in over 100 towns and cities across the UK, as well as expanding from being an online delivery platform for restaurants to also offering online convenience store delivery from suppliers such as Co-op Food.

In May, Amazon announced a substantial investment in Deliveroo, which would give it a minority shareholding along with certain other rights, allowing it to participate in the management of the company.

In response, the UK's competition watchdog issued an initial enforcement order to the e-commerce giant and the app-based food delivery business.

While Amazon would not take full control of Deliveroo's business, the CMA has assessed how the deal could enable it to influence Deliveroo's business strategy, considering the possible effects this influence could have on competition in markets where the two companies compete at present – or could compete in the future.

The initial investigation has found that the investment, in its current form, could harm competition in two ways.

Firstly, it was concerned that the deal could damage competition in online restaurant food delivery by discouraging Amazon from re-entering the market in the UK. Currently, there are only a small number of companies that act as the middle-man between restaurants and customers, and Amazon offered this service in competition with Deliveroo until 2018, when it exited the market.

Although Amazon closed its Amazon Restaurants business, the CMA believes evidence uncovered in Amazon's internal business documents show a continued interest in this sector and a material likelihood that Amazon would look to re-enter.

Given the limited number of existing suppliers, the CMA found that the potential re-entry by a supplier such as Amazon would significantly increase competition in online restaurant food delivery in the UK.

Secondly, the CMA raised concerns that the deal could also damage competition in the emerging market for online convenience grocery delivery.

Again, there are only a small number of suppliers offering the 'ultra-fast' delivery of groceries in the UK. Although several supermarkets and online food platforms are experimenting with convenience grocery delivery, Amazon and Deliveroo are two of the strongest players in this market, according to the CMA.

Andrea Gomes da Silva, the CMA's executive director, said: "There are relatively few players in these markets, so we're concerned that Amazon having this kind of influence over Deliveroo could dampen the emerging competition between the two businesses.

"If the deal were to proceed in its current form, there's a real risk that it could leave customers, restaurants and grocers facing higher prices and lower quality services as these markets develop – this is because the significant competition which could otherwise exist between Amazon and Deliveroo would be reduced."

The companies now have five working days to offer legally-binding proposals to address the competition concerns identified. The CMA would then have five working days to consider whether to accept the offer, instead of referring the case to an in-depth investigation.
Related Articles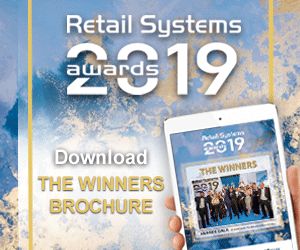 HULFT
Find out how HULFT can help you manage data, integration, supply chain automation and digital transformation across your retail enterprise.
Talking shop: retail technology solutions from Brother
Retail Systems editor Peter Walker sits down with Brother's senior commercial client manager Jessica Stansfield to talk through the company's solutions for retailers and hospitality businesses, what's new in labelling technology, and the benefits of outsourcing printing.
Most read stories...
World Markets
(15 minute+ time delay)