Visa adds 11 partners to token service
Written by Peter Walker
21/05/19
Visa has announced 11 new European partners which will implement its Visa Token Service (VTS), to create a more secure shopping environment for customers who store payment details on file with their favourite merchants.

New partners adopting the program include Adyen, Cardstream, Computop, Datatrans, HiPay, Ingenico/Bambora, Monext, Safecharge, Secure Trading, Wirecard and Worldline. Merchants which integrate with VTS through these companies now do not need to wait for individual certification approval and can launch their token-on-file initiative quickly and easily.

The service was launched in 2014, with merchants, acquirer gateways and technology companies joining the programme since then.

Mark Austin, European executive director for product solutions at Visa, stated: "By integrating Visa Token Service, merchants and payment gateways no longer have to store sensitive account data, greatly reducing fraud risk for consumers who save their card information to mobile devices, mobile apps or e-commerce merchants online."

VTS replaces consumer account information such as the Primary Account Number (PAN) and expiry information with a unique digital identifier or 'token' so that sensitive data is never shared. Tokens can be restricted to work only with a specific merchant, adding another layer of security to digital payments.

Visa also noted other benefits of card-on-file tokenization, including dynamic credential information, whereby consumers no longer have to log in and update their payment details when their card expires. Instead, payment credentials can be seamlessly updated by the issuer in the background, resulting in reduced declines and a frictionless payment experience. For merchants, this means they no longer have to worry about missing payment cycles or declined payments from outdated payment credentials.

When a token is saved in the merchant payment experience, VTS can enable card art to be displayed, giving a visual confirmation to consumers that the correct card has been loaded, reducing cart abandonment.

VTS tokens can also now be connected to a common identifier relating to a payment account without compromising the underlying account information. This Payment Account Reference (PAR), makes it easier and more secure for merchants to offer benefits such as loyalty, discounts and other services if the consumer opts in to the merchant plan.

Meanwhile, Network Hub Push Provisioning lets consumers add payment credentials to merchant wallets from inside their mobile banking application, removing the need for the cardholder to have their card at hand to manually add their card information to the merchant.

Finally, tokenisation will also provide enhanced security in the future when payment credentials are used in Internet of Things commerce such as cars, smart glasses, connected home appliances, etc.
Related Articles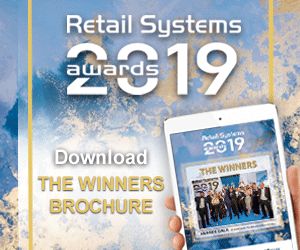 HULFT
Find out how HULFT can help you manage data, integration, supply chain automation and digital transformation across your retail enterprise.
Talking shop: retail technology solutions from Brother
Retail Systems editor Peter Walker sits down with Brother's senior commercial client manager Jessica Stansfield to talk through the company's solutions for retailers and hospitality businesses, what's new in labelling technology, and the benefits of outsourcing printing.
Most read stories...
World Markets
(15 minute+ time delay)