In-store still sparkles ahead of Cyber Weekend
Written by Peter Walker
16/11/18
Retail stores have apparently not lost their Christmas magic, with new research suggesting 71 per cent of UK shoppers appreciate the physical experience of browsing and buying gifts during the so-called 'golden quarter'.

A poll of 2,000 UK consumers conducted by retail technology provider Aptos also found that people are starting their shopping earlier, with many of them not waiting until Black Friday to get started.

While stores still remain popular, UK consumers' appetite for overhyped deal days are starting to wane, according to the research, with 64 per cent of respondents saying they won't wait for Black Friday and Cyber Monday next weekend.

The majority of purchases will still be transacted in store, but Aptos noted that digital's influence on total retail sales continues to climb, with 63 per cent of respondents spending time online browsing for gifts.

Mobile will also play a critical role, with 39 per cent finding inspiration via their phone, 28 per cent checking online prices while in-store and 26 per cent planning to use mobiles to make purchases.

"The golden quarter, a sales period that runs from October to December, has always been a busy and profitable time for UK retailers, and thanks to a deepening understanding of customers' omnichannel preferences and behaviours, as well as the revitalisation of store experiences, we expect the 2018 festive season to be particularly robust," said Richard Willis, regional vice president at Aptos.

Beyond price, which proved to be the most important factor for both online and in-store shoppers, respondents stated that for in-store purchases, deals and promotions are crucial (54 per cent), followed by the need for good stock levels (37 per cent). For online orders, after price, speed of delivery (50 per cent) is critical.

Manu Tyagi, associate partner for retail at Infosys Consulting, commented that retailers must plan ahead to get the most out of the potentially lucrative lead up to Christmas.

"This can be ensuring appropriate stocking and availability of the right products, both in-store and online, having sufficient in-store staff, and minimising delivery times.

"Store layouts and foot flow should be optimised to ensure minimal congestion, and retailers should focus on good display areas, using in-store technologies like augmented reality and touchscreen displays to enhance customer experiences," he stated. "In addition, retailers should stress test their websites prior to Black Friday to avoid any technical issues when the traffic hits."

Tyagi also noted that while most UK retailers are looking to make the most of Cyber Weekend, several major retailers like Selfridges, Primark and Asda have decided to opt out.

"Many stores struggle with getting their stocking, tagging and staff availability right on Black Friday, to cope with the higher footfall and the logistical support for online deliveries," he said. "Retailers are beginning to advertise promotions and discounts over a much longer period in a more sustainable manner, to avoid huge crowds in-store or websites crashing.

"In recent years retailers have also realised that return rates have peaked as high as 50 per cent after the frenzy of Black Friday, which impacts margins when goods are returned to stores."

Insights from trillions of data points flowing through Adobe Analytics and Magento Commerce Cloud, along with 3,000 consumers surveyed across the UK, showed that shoppers are expected to spend five per cent more than they did in 2017 during the holiday period.

A quarter of UK consumers are expected to do their Christmas shopping during Black Friday weekend, while over half of UK shopping budgets (56 per cent) are expected to be spent online this year, with 80 per cent planning to spend the same or more online than they did in 2017.

Meanwhile, online marketplace OnBuy.com surveyed 1,562 UK consumers about Black Friday, finding that appliances and electronics (78 per cent) will generate the most interest from shoppers on Black Friday, followed by clothes and shoes (72 per cent).

The study also showed that the majority of Brits will opt to get a refund (67 per cent) for any Black Friday purchases they no longer want to keep.
Related Articles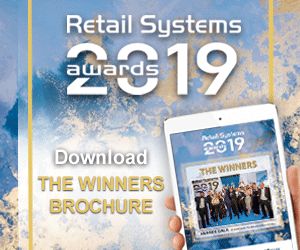 HULFT
Find out how HULFT can help you manage data, integration, supply chain automation and digital transformation across your retail enterprise.
Talking shop: retail technology solutions from Brother
Retail Systems editor Peter Walker sits down with Brother's senior commercial client manager Jessica Stansfield to talk through the company's solutions for retailers and hospitality businesses, what's new in labelling technology, and the benefits of outsourcing printing.
Most read stories...
World Markets
(15 minute+ time delay)