More than half of over 65s shopped online in 2019
Written by Hannah McGrath
13/08/2019
More than half (54 per cent) of adults aged 65 and over shopped online in 2019 according to the latest figures from the ONS, marking the first time a majority of this age group has purchased goods from e-commerce sites.

The data showed that among all adults, 82 per cent had bought goods or services online in the last 12 months, an increase of five percentage points since 2018.

The rise in online shopping was mainly concentrated in adults aged 35 years and over, with the percentage of consumers shifting online in this age group up six per cent since 2018.

For the under 35 age group, which is the most enthusiastic age group when it comes to online shopping, there was little change since 2018, with a rise of one percentage point since 2018.

Of those adults who shopped online, most were likely to have made 11 or more purchases in the last three months, with 35 per cent of online shoppers falling into this category.

However, among older shoppers aged 65 years and over, 14 per cent made 11 or more purchases in the last three months, with 35 per cent more likely to have purchased online between three and five times.

A total of 44 per cent of all shoppers spent between £100 and £499 on online goods in last three months, with 15 per cent spending more than £1,000 while at the other end of the scale, nine per cent spent less that £50.

While shoppers continue the shift to e-commerce, the data showed that security is increasingly becoming a concern, with seven per cent of adults suffering a fraudulent debit or credit card use after using the internet in the last 12 months.

Fraudulent emails and messages were the most common security issue, with 37 per cent experiencing this in 2019. A further 24 per cent of shoppers found themselves redirected to fake websites asking for personal information, while two per cent fell victim to identity theft.

Two per cent of those surveyed had experienced financial loss as a result of online crime and identity theft.
Related Articles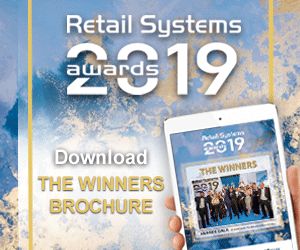 HULFT
Find out how HULFT can help you manage data, integration, supply chain automation and digital transformation across your retail enterprise.
Talking shop: retail technology solutions from Brother
Retail Systems editor Peter Walker sits down with Brother's senior commercial client manager Jessica Stansfield to talk through the company's solutions for retailers and hospitality businesses, what's new in labelling technology, and the benefits of outsourcing printing.
Most read stories...
World Markets
(15 minute+ time delay)