Online retail sales boosted by bad weather
Written by Peter Walker
23/03/18
UK online retail sales were up 13.1 per cent year-on-year in February, according to the IMRG Capgemini e-Retail Sales Index.

With the 'Beast from the East' winter storm hitting the UK in the last week of February, shoppers took the internet, driving a 3.5 per cent lift in sales compared to the previous week. This continues a positive start to 2018, with overall year-on-year growth averaging 13.5 per cent year-to-date.

Bhavesh Unadkat, principal consultant in retail customer engagement at Capgemini, said: "February's sales patterns clearly demonstrate the power of extreme weather on shopping habits; as people avoid the high street in favour of cosier shopping from their well-heated living rooms. As the snowy weather continued well into March we anticipate a continuation of this trend in next month's results."

However, the overall market conversion rate - the percentage of site visitors that complete a purchase - was 4.2 per cent, down from 4.6 per cent last year. Conversion rates for both multichannel and online retailers also came in lower than February 2017.

Meanwhile, smartphone growth remained strong at 38.5 per cent on last year, but is slowing when compared to the 57 per cent growth of last year. Tablets, on the other hand, continued their now four-month long decline, down 6.7 per cent year-on-year, a record low for this type of device.

IMRG's managing director Justin Opie pointed out that the overall conversion rate for online retailers has crept up very slowly in recent years, but stalled recently and has now actually been in decline for three consecutive months. "This suggests that shoppers are spending more time browsing, potentially across a greater range of sites, before making a final purchase decision and that may well be true, but a clear influencing factor is a shift in the devices people are using for shopping."

Some sectors performed notably well this February, with health and beauty leading the way on 33.85 per cent year-on-year growth. Clothing also continued to show strong year-on-year growth, up 14.9 per cent, with accessories and footwear the top performers within this sector at 22.3 per cent and 20.4 per cent respectively.

Yesterday, similar figures from the Office for National Statistics showed that internet sales now account for 17.2 per cent of all retail sales - up from 15.6 per cent in 2017. Online retail sales saw a year-on-year increase of 13.7 per cent in February - continuing the pattern of growth in the sector, but at a slower pace than reported last year.
Related Articles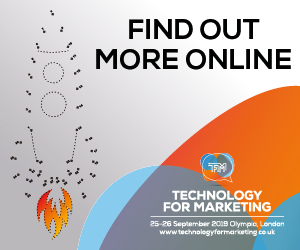 HULFT
Find out how HULFT can help you manage data, integration, supply chain automation and digital transformation across your retail enterprise.
Talking shop: retail technology solutions from Brother
Retail Systems editor Peter Walker sits down with Brother's senior commercial client manager Jessica Stansfield to talk through the company's solutions for retailers and hospitality businesses, what's new in labelling technology, and the benefits of outsourcing printing.
Most read stories...
World Markets
(15 minute+ time delay)