Half of retail sales will be online in next decade
Written by Hannah McGrath
10/07/2019
Online shopping is set to account for more than half of all retail sales within the next ten years, according to a new report.

A study by Retail Economics for law firm Womble Bond Dickinson (WBD) found that the tipping point will arrive in 2028, when e-commerce sales are expected to reach 53 per cent of the total retail sales, up from the current figure of 19 per cent.

The report found that the rapid increase in online sales will be due to a combination of the changing demographic of the UK adult population, the development of faster and cheaper in-home delivery services and fewer physical stores.

Generation Z and Millennial shoppers will make up half of adult consumers in the next decade, with their current shopping habits mapping clearly onto a sharp rise in e-commerce sales.

The research found that 62 per cent of 16-24 year olds (Generation Z) shop online at least every fortnight, averaging around three online purchases per month, compared to just 29 per cent aged over 65 years.

Millennials also spend the highest proportion online (22.1 per cent of total spend), averaging £42.32 per online transaction and spending £110.45 online each month.

The top three factors that would accelerate online shopping for consumers were be cheaper (47 per cent) and faster (26 per cent) delivery and easier returns (26 per cent).

In addition, easier returns are more important for Gen Z (28 per cent) and Millennials (30 per cent) than any other age group, highlighting their significance as dominant consumers in the future.

The report also found that digital businesses models will be key to driving the acceleration of online sales. It cited subscriptions and auto-replenishment services, which are set to further increase in online penetration rates for repeat purchases.

In more grim news for bricks and mortar retailers, the report found that footfall is set to fall further, with 10 per cent of consumers saying they will shop less in physical stores in next 12 months, outweighing those who suggested they will shop more frequently in-store.

Despite this, online is not due to completely overshadow the High Street just yet, with almost a quarter of Gen Zs saying they are more likely to do shopping in high streets and shopping centres, which the report's analysis said highlighted the complexity of the customer journey and the importance of shopping experiences for younger consumers.

However, whilst consumers demand better technology from retailers for a seamless shopping experience, the report showed they are also increasingly aware of the need to protect their personal data.

The study showed that over a quarter of respondents have taken some action to limit the amount of data shared with companies, reaching almost a third for 16-24 year olds.

Two thirds of consumers thought companies benefit more from the sharing of data compared to just 8 per cent of who thought consumers benefited the most.

Richard Lim, Retail Economics comments: "It's no exaggeration to say that the retail industry is undergoing a period of unprecedented change. Despite concurrent waves of political and economic upheaval in our midst, our work with retailers suggest this is a mere distraction from the seismic structural shifts reshaping the retail landscape."

"Successful retailers have always had to reinvent themselves to stay relevant."

However, he added:"The pace of change will inevitably prove too fast for many – as shown by the number of CVAs hitting the headlines. While the impact of future technologies and consumer acceptance is highly uncertain, it definitely feels like the digital retail-revolution is only just getting started."
Related Articles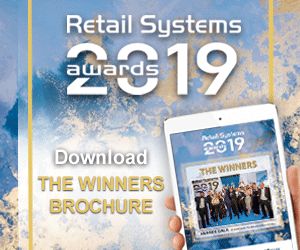 HULFT
Find out how HULFT can help you manage data, integration, supply chain automation and digital transformation across your retail enterprise.
Talking shop: retail technology solutions from Brother
Retail Systems editor Peter Walker sits down with Brother's senior commercial client manager Jessica Stansfield to talk through the company's solutions for retailers and hospitality businesses, what's new in labelling technology, and the benefits of outsourcing printing.
Most read stories...
World Markets
(15 minute+ time delay)