What's in store for retail tech in 2019?
Written by Peter Walker
19/12/18
From the death of the High Street to the technologies that are going to save it, the rise of e-commerce and advances in how to deliver all those orders – we've pulled together all the most interesting retail industry predictions for 2019.

Forrester crystal ball gazing put retail tech investments at $25 billion for the year. "Following a pause from 2014-2016, annual funding in retail tech investments are expected to accelerate next year, pushing the category past $100 billion in aggregate with a 35 per cent year-on-year growth."

High Street reinvention

The fate of the UK's bricks and mortar shops has been in a massive amount of flux this year, admitted Derek O'Carroll, chief executive of retail platform Brightpearl, with significant numbers of independent retail openings outweighed by a record number of chain store closures.

"But spending is on the up, the Office for National Statistics saw record proportions for online spending, increasing to 18.2 per cent in August, whilst department stores continued to reach a record proportion of online retailing, at 18.4 per cent," he pointed out. "The money is clearly there and up for grabs – in 2019 it's up to shops to take a slice of the pie for themselves.

Manu Tyagi, associate partner for retail and consumer goods at Infosys Consulting, predicted a High Street renaissance, but only for those shops that get smarter, using technology such as in-store heat maps and aisle planning to ensure better traffic flow and shorter queues.

"2019 will also bring the opportunity to take part in the 'gamification' of the shopping experience – creating an unforgettable way to shop that simply cannot be replicated online," he suggested.

"Apps that bring online and in-store together in aisle-hunting challenges, for example, will start to make their way onto our streets and supermarket shop floors, like the Pokemon-inspired augmented reality (AR) project we created which uses micro-targeting and gamification – known as 'Shopemon'."

Ronnie D'Arienzo, chief sales officer at PPRO Group, suggested that the concept store is set to turn traditional shopping on its head by replicating the virtual within the physical.

"While things like smart mirrors and digital kiosks aren't unknown to brick-and-mortar retail, in 2019 digital signage will begin to offer additional interactivity, increased engagement and a seamless omnichannel experience for consumers.

"For example, just one of the many benefits will mean customers will be able to use the interactive screens to order goods in-store to be delivered direct to their front door," he continued, adding: "Shoppers will be able to enjoy product visualisation that was once perhaps only available online via digital installations in physical environments, where experience will become a central point to the store of the future."

Angus Burrell, general manager at omnichannel payment solutions firm Valitor, said that the High Street is merely going through a period of change and reinvention, but there is a need for someone to take ownership and control over the transformation.

"We've seen some local councils, such as Doncaster, step up and make the high street an experience destination," he explained. "We can't keep waiting for something, anything, to make the high street better, it needs a leader to show the way, make a plan and make it happen."

Personalisation improvements

The John Lewis Partnership's futurologist John Vary reckons personalised shopping experiences will become more widespread in 2019.

We have already seen AR introduced by various fashion retailers, as well as services such as after-hours private shopping, but one day we'll get to a point where smart home tech will act as your own shopper, alerting retailers in advance when you're looking for a product," he opined.

O'Carroll from Brightpearl said that creating a seamless path from inspiration to purchase is still a challenge for many retailers using disparate systems across channels.

"With almost three-quarters of shoppers using multiple channels during their shopping journey, this is leading to a disjointed approach and often unfulfilled customers," he stated. "Whilst the overall retail sector didn't crack this in 2018, as expected, more brands will begin to make great strides over the next year – the upside is too great to ignore."

Nikki Baird, vice president of retail innovation at Aptos, noted that since consumers leave a virtual crumb trail, it's relatively easy to develop a good understanding of e-commerce shoppers' preferences and make smart recommendations based on gathered data.

As a result, online personalisation has paid off, she commented. "However, this success is much harder to replicate in physical settings where in-store technologies such as facial recognition and phone sniffing have a creepy factor."

Baird argued that in-store personalisation has to be delivered in the context of the physical location and the employees at that location. "Retailers have to figure out how to turn personalisation insights into actions that store employees can deliver in a way that is not creepy – 2019 will see both retail fails and some new successes, as retailers get better at translating the technology of personalisation into the store environment."

Utilising voice search

Dmitry Bagrov, managing director of DataArt UK, put his money on personal voice assistants becoming more prominent, sped up by the introduction of 5G, which will foster an even faster pace of growth for voice commerce for companies such as Amazon, Google, Apple and Microsoft.

"Voice recognition will become the Holy Grail," he said. "We predict that most companies will prioritise the deployment of voice recognition over image recognition functionality."

John Lewis futurologist John Vary suggested that the next phase of voice search will enable people to find items however they describe them and in any language, while O'Carroll said we're on the verge of full-scale search revolution. "Sheer accuracy of recognition is what will take voice search into the mainstream," he added.

AI and better data usage

David Nicholls, retail chief technology officer for Fujitsu UK, said that up until now, artificial intelligence (AI) has been focused on specific environments to create a dashboard on what's happened, rather than on what's going to happen.

"Retailers will begin to use AI to extract value from all forms or real-time data being collected across their operations, such as from their refrigeration systems, CCTV and control systems," he predicted.

"Previously, this data all sat in separate silos, with retailers unable to make correlations between the data, however, through the use of AI, retailers can link the data together in real-time and create new business insights and actionable data to engage the customer, optimise stock availability and movement, drive operational efficiency, and prevent loss."

Huw Owen, head of EMEA at Couchbase, agreed that 2019 will see a big jump in how retailers use analytics. "With Black Friday sales and promotions starting earlier each year, the real winners will be retailers who use this extra time to deliver real-time, personalised content to customers during the run-up period and on the day itself – since they can tempt people with deals for products they actually want to buy."

Baird from Aptos also thinks AI has moved on since the first generation of black box AI solutions.

"In 2019, we'll see more organisations move to glass box AI, which exposes the connections that the technology makes between various data points," she said, explained that the next generation not only tells you there is a new retail opportunity, it also uncovers how that opportunity was identified in the data.

"This may sound more complex - because it is - even with next-gen user interface that simplifies the integration of AI into processes and workflows, retailers must invest in educating employees to make the most of these," Baird continued, adding: "If we've learned anything in the last decade, data-driven insights aren't a passing fad."

Making deliveries easier

Gavin Masters, industry principal at Maginus, suggested that an emphasis on fast delivery services will transition into a new trend of smart delivery next year.

"There is growing demand for personalised delivery, that will use AI to 'learn' people's routines and deliver to different addresses accordingly, and flexible delivery at anti-social hours for those who don't work a job with traditional hours."

O'Carroll cited IMRG data which showed that in May, the use of next-day delivery services reached record highs, accounting for 37 per cent of all UK delivered orders, with 65 per cent of retailers expected to offer same-day delivery by the end of next year.

"In 1995, customer expectation around acceptable delivery time was nine days - today it's a mere 24 hours - and customer expectations are about to change again, with same-day delivery becoming the new normal within 18 months," he commented. "This will present huge challenges - and opportunities - for retailers next year."

Social commerce continues apace

Wesley MacLaggan, senior vice president for marketing at Marin Software believes that brands can no longer afford to ignore Amazon's influence.

"2018 was the year of Amazon, as it turned the duopoly into a trioploy and officially became the third largest digital advertising platform in the US behind Facebook and Google - but Amazon isn't the only retailer seeing major success in e-commerce - other major plays are bound to follow suit by monetizing their websites," he stated.

"As e-commerce rises as an advertising channel, expect to see other giants like eBay and Walmart mimicking Amazon's success to turn their own websites into advertising channels. Looking beyond the US, it's interesting to note that Alibaba, Baidu and Tencent all take a significant share of the Chinese ad market, according to eMarketer's Global Ad Spend Update."
Related Articles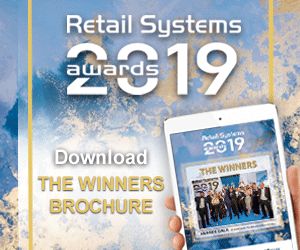 HULFT
Find out how HULFT can help you manage data, integration, supply chain automation and digital transformation across your retail enterprise.
Talking shop: retail technology solutions from Brother
Retail Systems editor Peter Walker sits down with Brother's senior commercial client manager Jessica Stansfield to talk through the company's solutions for retailers and hospitality businesses, what's new in labelling technology, and the benefits of outsourcing printing.
Most read stories...
World Markets
(15 minute+ time delay)