Slow moving
Written by Will Hadfield
01/09/2009
RFID in retail has, it's fair to say, had more false dawns than the English national football team. But could this be about to change or will the recession continue to hamper take up rates? Will Hadfield reports.

The wheelie bin fizzes and then the explosive charge strapped to the lid detonates. The radio frequency identification tag (RFID) reader taped to the inside of the bin has scanned the chip in the American passport strapped to the waste of the dummy and interfaced with a detonation system to make the charge explode. A US firm called Flexilis has demonstrated that the new generation of passports containing RFID tags can be used to trigger roadside bombs. As each country has introduced passport chips in a different way, Flexilis argues that terrorists could devise bombs that will only explode when, for example, someone with a US passport walks past.

Government-run RFID projects are sparking opposition around the world. In Britain, the government announced at the start of July that its national identity card, which will be read using RFID technology, would no longer be compulsory. It also delayed a decision on awarding the contracts for the scheme until the autumn of 2010 - after the latest possible date at which a general election can be held. Both the Conservatives and the Liberal Democrats have already made clear their intention to scrap the project if they gain power.

Similar privacy concerns have dogged early trials by retailers in both the US and Europe. Tesco was one of the first major retailers to experiment with RFID in 2005 when it began tagging CDs and DVDs at an Extra store in Leicester "to improve availability for customers". Although it placed an order with ADT to supply 1,300 UK supermarkets and 35 distribution centres with the technology by the autumn of 2005, it decided to cancel the project after US pressure group Consumers Against Supermarket Privacy Invasion and Numbering (Caspian) called for customers to boycott the group.

A new document from the European Commission may make life easier for retailers who decide to tag individual items in the future. Viviane Reding, the European Commissioner for Information Society and Media who is best known for forcing mobile phone companies to cut international roaming charges, has recommended that retailers tell customers if they have bought items containing RFID chips. The 27 member states have until May 2011 to inform the commission how they plan to ensure that retailers use RFID in a way that is both secure and which respects their customers' privacy. Reding's recommendations will help retailers restart aborted projects because they will soon have the certainty of a Europe-wide legal framework for the technology, says David Lyon, EPCglobal business manager at GS1 UK, an industry body which sets standards for new technologies.

White goods retailers and any retailer selling electronics may consider leaving tags on items thanks to the commission's recommendations, believes Steve Howells, the director of solutions sales at IT supplier Checkpoint Systems. "By not making the removal of tags mandatory, the recommendations give retailers a number of options for how they act, and if the tags are left on, the recommendations allow for more efficient post-sale benefits, such as management of warranties and repairs of goods purchased," he says.

The standards setters and technology suppliers are largely happy with the commission's proposals because they echo many of their own proposals. Intriguingly, however, the UK's only RFID project to move from pilot to nationwide roll-out is Marks and Spencer's item-level tagging of selected clothing lines, which does not use the GS1 standards. It trialled the tags on men's suits, men's trousers, men's jackets, women's casual trousers, women's skirts and women's suits during 2006. The aim of the project was to increase in-store availability. Although the retailer has never said what impact the tags had on sales, the project was thought to be successful because it extended tagging from 42 to 120 stores during the spring of 2007. Since then, Marks and Spencer has been silent about its use of RFID.

By the end of next year, the UK will have at least one more major retailer using item-level tagging on clothes. American Apparel, a favourite of teenage girls, plans to extend an RFID trial that it has been running at eight stores in New York and California to cover all 260 of its stores around the world. The retailer, which specialises in lycra and other cheap basics, started using RFID at its Columbia University store in New York in an attempt to tackle the enormous number of garments that went missing at each of its twice weekly stock counts. The average American Apparel store - the UK store format is the same as in the US - has 38,000 stock-keeping units (SKUs) with 26,000 items in the store room and 12,000 on the shopfloor. The retailer estimated that each stock check revealed that between 100 and 300 items were missing per store.

As American Apparel manufactures all its stock at a single factory in Los Angeles, it was able to tag items at source with relative ease. Company policy is to stock only one of each SKU on the shopfloor at any one time. Each time an item is sold, someone needs to go into the storeroom and bring out a replacement. During the pilot, which quickly spread to eight stores, staff used a RFID reader at the PoS to send a list of needed items to the IT system in the storeroom. When someone collected an armful of orders, they passed a second RFID reader at the entrance to the shopfloor which asked them to confirm the items that were going back on display.

The twice-weekly stock check during which shopworkers used to circle missing items on a paper inventory of the store's goods was replaced by a sweep of the shopfloor with handheld RFID readers. The time taken for the stock check fell from 240 man hours a month to 52 hours. American Apparel estimates that one store manager could manage two stores using the new technology. Sales increased by 14 per cent and the number of missing items at each stock check fell below ten.

The company may be able to gain larger benefits from tagging than other retailers because it controls its own supply chain. Even though the benefits are great, tagging is still expensive at an estimated cost of $47,400 per store. For other retailers, who rely on complex networks of suppliers, RFID may simply be too expensive at a time when IT budgets and wider capital expenditure are both being slashed. The recession, rather than the lack of guidance from Europe when the technology first appeared some years ago, is probably the real reason why most retailers are avoiding RFID.
Related Articles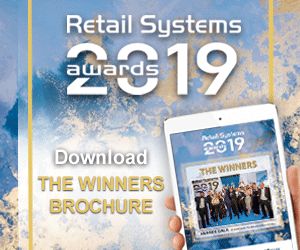 HULFT
Find out how HULFT can help you manage data, integration, supply chain automation and digital transformation across your retail enterprise.
Talking shop: retail technology solutions from Brother
Retail Systems editor Peter Walker sits down with Brother's senior commercial client manager Jessica Stansfield to talk through the company's solutions for retailers and hospitality businesses, what's new in labelling technology, and the benefits of outsourcing printing.
Most read stories...
World Markets
(15 minute+ time delay)