E-commerce sales up 16% year-on-year: ONS
Written by Peter Walker
30/11/18
Office for National Statistics (ONS) data has shown that e-commerce sales in the UK rose at their highest rate since 2011.

The latest statistical report revealed that e-commerce sales by businesses with 10 employees or more were £560 billion in 2017, rising 16 per cent from £484 billion in 2016.

Growth in total e-commerce sales by businesses with 10 employees or more has been driven by an increase in website sales of £131 billion since 2011, while electronic data interchange (EDI) sales have declined by £61 billion.

In 2017, of businesses with 10 employees or more, 82 per cent had a website, almost double the proportion of businesses with fewer than 10 employees, at 42 per cent.

The ONS attributed some of the online sales rise to the use of fast broadband speed - of 100 mbps or more - being used by 16 per cent of businesses with 10 employees or more in 2017, up from 4.6 per cent in 2010.

When looking solely at website sales for 2017, the majority at £160 billion, were to private customers.

Micro-enterprises have minimal impact on the value of e-commerce sales, according to the ONS. The number of micro-enterprises far outweighs the number of larger businesses with 1,000 employees or more. For this reason, micro-enterprises have a larger impact on the proportion of businesses making e-commerce sales.

"It is clear that the larger the business, the more likely it is to make e-commerce sales, with 46 per cent of businesses with 1,000 employees or more making website sales in 2017, compared with 8.8 per cent of micro-enterprises.

Of all UK businesses, the largest rise of website sales has been in businesses with 1,000 employees or more, where sales grew by £101 billion, from £60 billion in 2009 to £161 billion in 2017. Although website sales by smaller businesses with 10 to 49 employees rose by £26 billion, from £7.8 billion to £34 billion over the same period.

The ONS also noted that between 2016 and 2017, there was almost no change in the proportion of all businesses receiving orders via their own website or app – eight per cent in 2016 and 8.1% per cent in 2017.

There was, however, a slight increase in these businesses receiving orders via e-commerce market place websites or apps such as Booking.com, eBay and Amazon, from 3.2 per cent in 2016 to four per cent in 2017.
Related Articles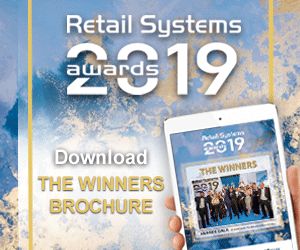 HULFT
Find out how HULFT can help you manage data, integration, supply chain automation and digital transformation across your retail enterprise.
Talking shop: retail technology solutions from Brother
Retail Systems editor Peter Walker sits down with Brother's senior commercial client manager Jessica Stansfield to talk through the company's solutions for retailers and hospitality businesses, what's new in labelling technology, and the benefits of outsourcing printing.
Most read stories...
World Markets
(15 minute+ time delay)