What lies ahead for retail technology in 2017?
Written by Anthony Strzalek
13/01/2017
2016 was another bumper year for the adoption of new and more established technologies in the retail sector, and this trend sees no sign of abating as we enter 2017. E-commerce continues to grow and retailers are discovering and implementing more innovative ways to interact with consumers both online and in-store, including through the use of biometric and virtual reality technologies. Over the past 12 months we have witnessed the rise of contactless payments and other smart payment methods, but the UK has also seen the introduction of a new polymer £5 note and ATM withdrawals break all-time records despite reports predicting the death of cash by 2020.

So what can we expect in the retail sector over the coming year? A range of industry experts have outlined to Retail Systems their predictions for the next 12 months…

Rupal Karia, managing director of retail and hospitality, UK and Ireland, Fujitsu:
"The days of tilling are numbered. In most cases, shop processes have been the same for decades; and with the recent launch of Amazon Go, we have seen how retailers can again push and innovate a physical store. The in-store model where customers load their shopping baskets to then unload, scan, repack, and pay for all of their items as they would have done fifty years ago are limited. Now that the level of customers' expectations is at an all-time high, retailers need to find ways to match it and ensure they are differentiating themselves from their competitors. Shopping in-store is now very much experiential. By bringing innovative new ways to shop, retailers can enhance the shopping experience to make it more interactive and digitally enabled. Those that do will be the retailers that stand out in a noisy retail landscape."

Uwe Hennig, CEO, Detego:
"Spoiled by the speed of getting information online, the customer now expects the same service in a store. This trend will mean even more mobile devices – such as tablets and smartphones – being used by sales personnel to provide information on individual articles at the point of sale. More and more retailers will use the numerous possibilities of the Internet of Things (IoT) and cloud-based services to better understand their customers, increase effectiveness and further improve their customers' shopping experience. IoT enables the personalisation of offers and digital signage that increases the probability of self-service and more intelligent and extensive interaction with consumers in the store."

Mike Shapaker, managing director, EMEA, ChannelAdvisor:
"Consumers' appetite for shopping on mobile devices will continue into 2017 and beyond and this will have huge implications for brands, especially those that don't currently offer mobile-optimised websites or dedicated mobile apps. Unfortunately these retailers are not long for the world if they are not adapting to this change in shopping behaviour. 2017 will likely see an increasing number of retailers offering a more personalised retail experience via mobile. This could include strategies like using geolocation to push personalised offers to a shopper's device, or taking advantage of marketplaces that do have mobile optimised websites or apps. Retailers will also need to adapt their content strategies in tandem to ensure consumers' attention is held as they flit from website to website on their small screens."

Bhavesh Unadkat, management consultant in retail customer engagement design, Capgemini:
"Biometric recognition is on the rise, and shows no signs of letting up, providing opportunities for retailers to really understand their customers. The biometric recognition revolution is in full swing, and the opportunities that it offers retailers to learn more about their customers, and in turn enrich their shopping experience, is an exciting prospect. Whereas AR and VR employs technology to enhance interaction, biometric recognition allows retailers to instantly collect much more detail on their customers than a simple online registration form, such as their approximate age, height, gender and preferences. That detail is then used to instantly offer bespoke shopping choices and experiences, whether they are in-store browsing or sat at home on a tablet device. Expect 2017 to offer even more innovation and trialling in this space."

Roger Niederer, head of merchant services, SIX Payment Services:
"As technology continues to improve and change, so do online shopping trends. Online shopping is increasingly centered around smartphones. Therefore it is understandable that consumers do not want to deal with lengthy payments procedures, and sometimes simply 'drop out' of a transaction due to frustration. As a result, payment providers and merchants are increasingly concerned about how they can simplify the payment process to ensure it is both fast and secure. Technology is changing not only consumer demand but also the range of payment options that merchants can now provide both online and in-store. It is important to stay aware of payment and consumer trends to avoid missing out on sales due to a lack of payment options. We believe that these trends will continue throughout 2017 as the payment landscape continues to evolve."

Huw Thomas, managing director, PMC:
"2016 did not see the great development in omnichannel retail that many (including me) had predicted. For the past few years, pent-up retailer and consumer demand for an efficient, channel common experience has failed to be realised. There were some pretty cataclysmic situations during last year – Brexit, the prime minister's resignation and Donald Trump securing the US Presidency – that didn't do much to support stability. The drive to a single view of everything – customer, product, stock, sales (and truth!), remains a well-founded but difficult to achieve ideal. All of the talk of the death of the High Street seems to have died. In its place is a desire to get consumers back into stores, often as a way of fulfilling offline sales but also to upsell whilst in store, using all available channels. There are a few things that can provide deliverable stepping stones to a unified 'all channel' offering, namely in-store ordering, unifications of payments and store staff use of mobile technology. My predictions for 2017 are that nothing much from a retail technology point of view is going to change. However, those retailers that are really embracing a focus on the customer experience will use a combination of the three items above to start a journey towards a truly unified customer experience."

Chris McCullough, CEO and co-founder, RotaGeek:
"2017 will see a huge increase of automated/algorithmic-based solutions to deal with time consuming problems. Companies that have collected large amounts of data over the past few years now have a rich mine of historical data – and this comes just in time. These new solutions, which will revolutionise the foundations of business, are able to feed off the data collected and finally bring day-to-day operations into the 21st century. The world of tech has spent a long time innovating technologies and developing complex data collecting and data analysis methods. In 2017 we'll see a real push to integrate the two – leading to smarter cities, businesses and societies overall."
Related Articles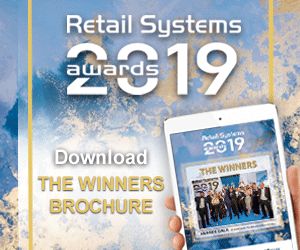 HULFT
Find out how HULFT can help you manage data, integration, supply chain automation and digital transformation across your retail enterprise.
Talking shop: retail technology solutions from Brother
Retail Systems editor Peter Walker sits down with Brother's senior commercial client manager Jessica Stansfield to talk through the company's solutions for retailers and hospitality businesses, what's new in labelling technology, and the benefits of outsourcing printing.
Most read stories...
World Markets
(15 minute+ time delay)