Waitrose upgrades checkout scanners
Written by Peter Walker
23/07/19
Waitrose & Partners has rolled out a new customer-facing scanning solution to all its stores, letting customers scan codes from their smartphone screen at the checkout, without handing over their phone.

The solution comes from automatic data capture firm Datalogic, with its Gryphon GFS4400 scan engine helping to minimise disruption to existing point of sale infrastructure.

Waitrose has been at the forefront of innovation when it comes to smartphone shopping, being the first in the UK to launch the self-shopping over a decade ago, and also the first to offer the service to all myWaitrose loyalty app members via their smartphones.

Matt Clifton, head of retail change and development at the supermarket chain, commented: "We know that many of our customers are shopping little and often and therefore want the most convenient shopping experience possible.

"Being able to complete a whole shop using only a smartphone means that our customers can scan and pack as they go, and then pay with their phone – the dynamic world of smartphone technology means that the future capabilities of this app, such as personalised offers and detailed product information are endless."

While the launch of mobile apps like Quick Check improve the in-store shopping experience, a change was required at the checkout, as for data to pass from the customer's mobile phone to point of sale systems, a barcode is generated and needs to be scanned.

"Whether customers were completing a shop using the Quick Check app or simply wishing to scan their MyWaitrose ID from within the app, we wanted to find a way to enable this data exchange without the customer's phone leaving their hand," added Clifton.

Jamie Dickinson, retail sales director for the UK and Ireland at Datalogic explained that there is growing anxiety among customers about relinquishing possession of their mobile phone. "Many of our customers fear that this anxiety could limit loyalty programme and app usage, however perhaps of greater concern, is how to provide customers with the convenience of using their phones while ensuring complete peace of mind that the device never has to leave their hand."

With the help of a customised mounting solution from Ergonomic Solutions, the compact customer-facing scanner is securely installed just under the pin entry device at each of Waitrose's manned checkouts nationwide.

The Gryphon GFS4400 can read both 1D and 2D barcodes and with a continuous scan mode, data is captured whenever a barcode passes into its field-of-view and positive scans are confirmed to the customer via Datalogic's patented 'Green Spot' technology, which omits a green light as well as audible confirmation.
Related Articles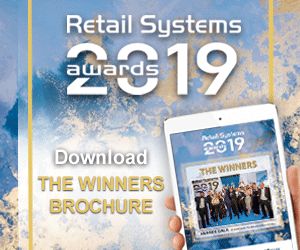 HULFT
Find out how HULFT can help you manage data, integration, supply chain automation and digital transformation across your retail enterprise.
Talking shop: retail technology solutions from Brother
Retail Systems editor Peter Walker sits down with Brother's senior commercial client manager Jessica Stansfield to talk through the company's solutions for retailers and hospitality businesses, what's new in labelling technology, and the benefits of outsourcing printing.
Most read stories...
World Markets
(15 minute+ time delay)