UK online grocery spend hits £12.3bn
Written by Peter Walker
12/04/19
Sales of online groceries in the UK hit £12.3 billion last year, up nine per cent from 2017, according to the latest Mintel data.

The online sector is still adding to its share of total grocery retail sales, up from 6.1 per cent in 2016 to seven per cent in 2018. Mintel predicted that online grocery sales will reach £13.6 billion this year, and over the next five years, the channel is forecast to account for 10 per cent of all grocery shopping, reaching £19.8 million by 2023.

But while 45 per cent of Brits love to shop electronically, Mintel found that retailers are struggling to entice new shoppers to the world of online grocery retailing, with the number of customers shopping online for groceries has dropping from 48 per cent to 45 per cent between 2015 and 2018.

The research was carried out among 2,000 adult internet users in December, finding that younger Brits are still enthusiastic about the convenience of having groceries delivered - particularly those aged 25-34 - with 61 per cent of this group doing some online grocery shopping and 27 per cent saying they do all or most of their grocery shopping online.

However, it seems that middle-aged and older shoppers are more reluctant to join the online shopping revolution, and their reluctance is growing. Whilst 35 per cent of those aged 45+ reported buying some groceries online, the number of Brits in this group who have "never bought groceries online and have no interest in doing so" has grown from 34 per cent in 2015 to 42 per cent in 2018.

Nick Carroll, associate director of retail research at Mintel, said that online grocery is, alongside the food discounters, one of the fastest-growing segments within the wider grocery sector.

"However, growth is slowing and the number of users is plateauing as retailers struggle to encourage new customers to try their services – many consumers remain reluctant to buy fresh products online, concerns around substitutions persist and delivery charges are still off-putting, particularly in a market where value is key."

Carroll pointed out that online services are still best suited to the traditional big-basket weekly shop, at a time when consumers are increasingly shopping on a top-up or when-needed basis.

"That is why we are seeing more retailers launch trial services designed to tap into the potential market for same-day or small-basket online grocery delivery – the difficulty is such services, at present, are costly to both the customer and the retailer, limiting their appeal and potential geographic rollout."

The research revealed that the most common reason why consumers do not shop online is that they prefer to choose fresh products themselves (73 per cent). There are also concerns around high delivery charges (24 per cent) and minimum spend (18 per cent).

It also found that 63 per cent of online shoppers have experienced an issue with their order in the past year. Top of the complaints are missing products, with 26 per cent of online grocery shoppers experiencing this frustration, closely followed by incorrect product substitutions (25 per cent) and out of date/short shelf life items (24 per cent).

"The fact that nearly two thirds of online shoppers have experienced problems with orders in the past year should be worrying for the sector," concluded Carroll.
Related Articles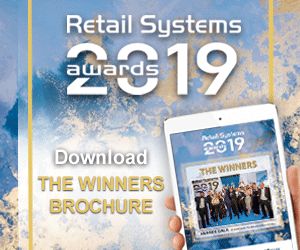 HULFT
Find out how HULFT can help you manage data, integration, supply chain automation and digital transformation across your retail enterprise.
Talking shop: retail technology solutions from Brother
Retail Systems editor Peter Walker sits down with Brother's senior commercial client manager Jessica Stansfield to talk through the company's solutions for retailers and hospitality businesses, what's new in labelling technology, and the benefits of outsourcing printing.
Most read stories...
World Markets
(15 minute+ time delay)