A smart move?
Written by Hannah Prevett
04/07/2014
Is wearable tech one to watch and will it fly in the retail sector? Hannah Prevett reports

Wearable technology is the talk of the town. Even music mogul Will.i.am has got in on the act and developed his own smartwatch – from which he recently attempted to receive a call live on TV. It wasn't an unmitigated disaster, though the quality was poor and then the call dropped entirely. Is it just billionaire music superstars and gadget fiends who are eyeing the opportunities presented by wearable tech, or is enterprise ready to embrace smart glasses and watches? "There's a lot of buzz around wearables, that they're the next big thing, and many industries are always thinking of innovative ways to engage their customers," says Thomas Zink, research manager at IDC. "The Internet of Things might be one of those."

Paul Clarke, director of technology at Ocado, agrees that the retail industry has got its eyes peeled for relevant developments in wearables. "There is absolutely no doubt that this is going to be a huge new area, especially as part of the wider Internet of Things movement in which wearable-equipped humans interact with one another and with devices, machines, robots and the environment," he says.

There are many opportunities for wearables within retail. Retailers can equip frontline sales staff with devices to help them provide a better customer service. While there aren't thought to be too many high-profile retail examples yet, other sectors are placing some big bets. Earlier this year, Virgin Atlantic announced that concierge staff in the airline's upper class wing would be donning Google Glass and other wearable technology to deliver the industry's most high-tech and personalised customer service yet. "These devices then enable employees to greet customers by name, talk about their seat, their meal choices, the weather at their destination and any delays to their flights without needing to look at a screen," explains Ben Perkins, head of consumer business research at Deloitte. "It's there on their wrist or in their line of sight." Similarly, Walt Disney Company has invested $1 billion in developing
wearable technology that it hopes will revolutionise the way people visit, move around and spend money at its theme parks.

The project is called MyMagic+ and uses a combination of a website, smartphone app and bracelets called MagicBands to track a guest's every movement at Disney World resorts as well as giving them real-time information about availability at popular eateries. It also acts as a park ticket and key card for hotel rooms.
But most of this remains pie-in-the-sky stuff for retailers. Much more feasible currently is the use of smart glasses in back office operations. "The biggest adoption appears at the moment to be in warehousing," says David Lock, director of operations EMEA at Vuzix, which sells the first ever smart glass, the M100, beating even Google Glass to market. "The key advantage of all of these new wearable technology products, certainly in the glasses area, is the fact that you now have a hands-free environment."

Vuzix has partnered with SAP to work on developing the use of smart glasses within the logistics arena. To aid the less imaginative, SAP produced a futuristic video showing how such an item might be used, to aid with picking and packing, for example. This is also where Clarke sees the most potential for wearable technology within his business.

"I am…excited about the opportunity that wearables offer to drive greater efficiency, communication, collaboration and safety for our staff with that be in our head office, in our huge automated warehouses or in our 'last mile' operation. The breadth of depth of the technology and automation that already powers our end-to-end business provides a wealth of opportunities for human-machine interaction," explains Clarke.

It makes sense that this is where we are seeing most traction, says Perkins. "In one sense you would think the electrical companies, the technology companies, the mobile phone operators, so the people who will actually sell the devices, would normally move first, but given the potential uses in the supply chain and the back office, you may actually find it's the retailers that have large warehouses that may start to use wearables behind the scenes first," he explains.

"This may include DIY retailers, the supermarkets. A massive application is that dark-store environment. For somebody who's going round and picking groceries for home delivery, having that list, that direction and navigation in front of their line of sight would speed up and make that process more efficient. That's a really good example of where smart glass technology could deliver immediate benefits," adds Perkins.

Lock says the most important factor in determining the effect smart glasses will have on the retail market will be the development of applications. "Somebody can go to our website and buy the M100 for £799 and it already has standard features like clock, calendar and so on. But in order for it to
be really useful, you need applications on it," he says. "And a lot of those applications are still in the process of being developed."

The style or fashion element of wearable technology cannot be ignored either. The M100 is aimed very squarely at the enterprise customer, which means that the look of the product is less important, says Lock. "At the moment, style is not so critical. It's all about business efficiency. It's about saving money, improving efficiency and being one step ahead of your competitor."

It's an altogether different story in the consumer market. In its continued attempts to make its Glass cool, Google recently signed a deal with Luxxotica, the Italian eyewear powerhouse, in order to make "innovative iconic devices". The world's largest producer of sunglasses has pledged to include its flagship brands, Ray-Ban and Oakley, and predicts its Glass range will hit shelves in 2015. "I don't think Google Glass looks really hip right now, but that's probably going to change over time," says IDC's Zink. "As it does, that's something that might drive adoption."

Adoption may also be driven by incentives, he adds. This might mean encouraging customers to download a particular app to their smart watch, for example, enabling the retailer to send relevant, timely offers. But there must be an opt-out clause, warns Zink. "Make it optional for the consumer to enter such an agreement. Give him the option to opt out if he doesn't want his data to be stored and to get promotional offers. But other customers who may not be that concerned about privacy might be happy with the trade-off of sharing more about their personal habits but getting a better deal in return."

While legislation may need to be tweaked, he predicts wearables will become as ubiquitous as the smartphone. "Fifteen years ago, nobody would have guessed that a mobile phone would become the first thing you look at in the morning and the last thing you look at before you go to bed. The consumer has matured with the device. There's little reason to expect that will be different for wearables," he claims. And it mightn't stop there, says Clarke. "Down the road, I'm sure we will see true wearables in the form of devices embedded into clothing, bags hats etc so you don't even have to remember to take them with you," he predicts. "Then of course there will be implants but I suspect the widespread adoption of those may be a little while off, although I would certainly consider getting one."
Related Articles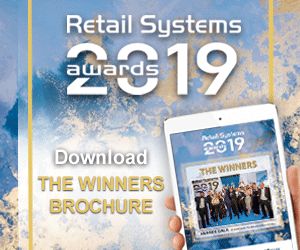 HULFT
Find out how HULFT can help you manage data, integration, supply chain automation and digital transformation across your retail enterprise.
Talking shop: retail technology solutions from Brother
Retail Systems editor Peter Walker sits down with Brother's senior commercial client manager Jessica Stansfield to talk through the company's solutions for retailers and hospitality businesses, what's new in labelling technology, and the benefits of outsourcing printing.
Most read stories...
World Markets
(15 minute+ time delay)