What's next for retail technology in 2020?
Written by Peter Walker
23/12/19
Another year gone, another yet to come. It's time to assess what happened in 2019 and look ahead to what might happen in 2020. As is customary, we rounded up a range of industry experts to tell us what they're expecting to happen in the retail sector.

Sustainability action

While awareness of the impending climate catastrophe increased in 2019, many think 2020 will be the year that retailers move a step further than reverse vending machine trials and paid-for plastic bags.

Oliver Guy, global industry director at Software AG, said that environmental responsibility will become a differentiator for retailers.

"An increased focus on the environment informs consumer choices and retailers will respond accordingly – Amazon has ordered an electric fleet of vehicles in response to concerns over its supply chain's carbon footprint, and we have seen retailers discontinue plastic cotton wool buds and plastic straws due to concerns about littering the ocean."

He suggested that smart retailers will see technology as a tool to help. "This could be via the Internet of Things (IoT) and real-time artificial intelligence (AI) response to supply chain issues, improving data visibility that drives decisions or using process mining to understand and eliminate delays that have an adverse environmental impact."

Chris Long, managing consultant at Capgemini Invent, agreed: "Consumer opinions are changing very quickly in terms of sustainability, organisations need to be able to react to customers boycotting unsustainable products otherwise they will lose out – sustainable methods have to be business efficient, otherwise they will not be adopted in such an intense climate."

Wayne Snyder, vice president for retail industry strategy EMEA at JDA, noted that within fashion retail, Zara recently joined the likes of H&M in making sustainability pledges, and more retailers will follow suit in 2020.

"Fashion's focus on the circular economy will continue to grow, with the rental market set to re-emerge into the public consciousness – a growing number of people are already seeing the benefits of renting expensive outfits to wear to social occasions, and the added sustainability benefits should make this approach become increasingly commonplace in 2020."

Change is also being driven by governments, with Snyder suggesting that retailers will increasingly recognise the benefits of greener legislation, rather than viewing it as irritating red tape.

"For example, the mandatory 5p plastic bag charge was financially positive for retailers, and new rules making it possible for customers to co-ordinate deliveries/remove packaging will also benefit the bottom line. With waste reduction often coming hand in hand with bottom-line benefits, we'll see more retailers keen to change their behaviour."

Social commerce

With social media platforms increasingly implementing e-commerce features, Angus Burrell, UK general manager for omni-channel payment solutions at Valitor, reckons social commerce will continue to empower savvy retailers to make a dent in the traditional world of retail.

"The reason it will continue to be such a powerful force is because it serves one of consumers' most pressing needs; convenience," he stated. "Over the next year, social networks will continue to make the path to purchase shorter and less complicated, allowing consumers to make a quick purchase with minimal effort.

"The future of social commerce lies in allowing retailers to deliver personalised content and a simplified purchase process, making consumers' time spent interacting with brands on social more worthwhile."

Chris Long pointed to the latest trend in social media buying being live stream shopping. "This acts as a digital shop floor, allowing viewers to purchase goods there and then – moreover, companies are now also using consumers to help in the value chain (for example, consumers do deliveries), with certain incentives in place to encourage consumers to do so."

Direct-to-consumer

Intrinsically linked to social shopping is the rise of direct-to-consumer (D2C) retail, with Angus Burrell opining that gone are the days of easy to win customer loyalty.

"Consumers feel no shame in looking to a competitor if a brand cannot offer them the right experience and the right price – social media has helped to fuel this mentality, with the likes of Instagram allowing consumers to jump from retailer to retailer, with direct-to-consumer brands able to sell directly to their customers."

He suggested that the brands which triumph are those not just offering products, but an entire culture and ethos for their audience to buy into.

"In 2019 we saw household names from Debenhams to House of Fraser struggle as they failed to carve out their identity in an industry experiencing a seismic shift, whereas the likes of Joules reigned with a clear vision."

Oliver Guy agreed that the blurring of industry lines will continue as consumer goods companies seek to avoid using the traditional retailer.

"This business model focuses on delighting its customers without any intermediary involved - think Dollar Shave Club (since acquired by Unilever) offering razors direct to the customer for as little as $1 per month - even Lego are considering offering a rental service for its toy bricks."

Digital customer experience

James Harvey, EMEA chief technology officer at Cisco AppDynamics, predicted that the new decade will be the era of the digital reflex, where use of digital services has evolved to become an unconscious extension of human behaviour.

"Next year, for the first time, it is the digital customer experience - rather than the in-store or face-to-face experience - that is considered more important to the consumer, and retailers must take note."

He stated that retailers need to keep pace with both their customers and the competition, by embracing the use of real-time, data-driven insights to drive customer loyalty and remain competitive.

"The real winners will be retailers that continually make enhancements to ensure that their digital customer experience meets these growing expectations – it's vital that retailers proactively monitor application and digital services performance, managing their end-to-end digital experience from a technical and customer experience perspective."

Thomas Husson, vice president and principal analyst at Forrester, predicted that mobile phones will increasingly act as the customer experience hub.

"It is not a channel but a way to deliver an integrated offline/online experience in real time, some brands - think Starbucks, McDonald's, Nike, Argos, John Lewis, to name a few - get it and execute pretty well the integration of mobile into their marketing strategy, but most struggle and still need to fix their mobile foundation."

Connected to this of course is the issue of mobile data privacy, which he said will become a strategic differentiator to establish trust. "A lot of the hidden harvesting of consumer data happens through mobile – to establish trust and enable personalization (or lack thereof, if consumers precisely do not want to share data), it is key to integrate mobile into your privacy-by-design approach."

Paul Winsor, general manager for retail at enterprise AI firm DataRobot, said that consumers are more connected and informed than ever, so retailers must understand and anticipate their evolving needs and habits in order to provide excellent customer service and win the majority of their wallet share.

"As customer touchpoints multiply, transparency and choice expands for consumers, undermining traditional levels of shopper loyalty – retailers will increasingly need to leverage their data to personalise targeting in an attempt to restore loyalty."

Evolution of personalisation

Responding to a previous prediction, Nikki Baird, vice president of retail innovation at Aptos, said that 2019 saw less of the 'personalisation fails' that had marred retailer promotions in previous years.

"I don't think retailers made much progress in bringing personalisation into stores, but it shows the challenge here when the bar is 'at least we didn't do anything really bad here'," she commented, adding that data-driven insights are not a passing fad. "But the work to get to those insights is still complex and challenging."

Huw Owen, head of EMEA at Couchbase, agreed that delivering personalised promotions to customers is more important than ever, especially around events like Black Friday.

"Retailers need to be asking themselves: 'how can we get in early and use analytics to target customers with products they actually want to buy? how can we differentiate ourselves from the competition?' – for next year, those who focus not just on performance, but intelligence too, will be those who come out on top."

Graham Cooke, chief executive and co-founder at Qubit, commented that while personalisation has been segment-driven in the past, in 2020 the technology will be used to create more contextually relevant experiences for the shopper, from the offer to the products and content, even how the content is displayed.

"Machine learning will play a bigger role in personalisation initiatives next year, as it allows brands to analyse and action large amounts of data in milliseconds, regardless of whether it's coming from a laptop or smartphone," he said. "The more contextually relevant experiences brands deliver the more they will command the attention of the shopper, increasing the share of wallet from that customer."

Revitalising in-store

Long a broken promise, 2019 showed some signs that retailers are actually investing in making their store estate more of an experiential destination for shoppers – with more innovation possible in 2020.

Burrell said that the High Street isn't dead, but it does need a leader. "Looking ahead to the next decade, the High Street will continue to redefine itself, becoming a destination for experiences not just product purchases.

"Small and independent businesses are to be integral to this transformation, becoming the 'nuts and bolts' of local communities – people go to the high street to feel a sense of belonging and these local retailers can plug this need," he added.

Long pointed out that physical locations are a huge liability. "Retailers need to make the work more efficiently and will repurpose these to provide more for customers without being gimmicks – we can perhaps see low-tech investment, i.e. Pets at Home providing children's parties."

Raj Badarinath, vice president of marketing at RichRelevance, suggested that in 2020 more retailers will wake up to the realisation that key growth pockets come from competing on experiences, not on matching frictionless offerings like Amazon or Alibaba.

"Consumer demographics are changing rapidly to a more younger-skewed audience who have very little patience with low digital maturity as demonstrated by the High Street, therefore they are flocking to digital-native brands like Boohoo and Missguided, so growth exists, it's just not in the traditional department store area.

"The key will be to rapidly and painfully shed the more outdated concepts of experience and blend in digital more actively – Marks and Spencer's fate is the perfect example of an institution at risk of failing to maintain its place at the top due to outmoded approach to the shopping experience."

Manu Tyagi, associate partner for retail and consumer goods at Infosys Consulting, gave Primark and Matalan as good examples of how the High Street has had a renaissance.

"Primark has poured its energy into the in-store customer experience with bold attempts at experiential retailing - including add-ons like the Disney café and hair salons - while Matalan has focussed on creating a strong online presence to adapt to consumer behaviour and retain customers.

"Steps are being taken in the right direction, with retailers appealing to the new era of 'phy-gital' consumers who have choice, convenience and price comparisons at their fingertips."

Kevin Sterneckert, chief executive of Symphony RetailAI, said that while the competition from online retail is not to be underestimated, the next year will see retail continue to play to its strengths – engaging and delighting customers.

"Stores will offer assortments to tantalise local taste buds and expanding their fresh and prepared food departments, we'll see live music, cooking classes and other services transform store visits into experiences to be enjoyed and sustained, rather than dull chores to be completed and expedited."

Snyder predicted greater collaboration between retailers as they look to drive profits, cut costs and improve in-store experiences.

"Just a year ago you would not have imagined that bricks-and-mortar retailers like Next would be acting as Amazon parcel collection points – next year, we will see more examples of this kind of partnership as all parties grow to recognise the benefits working together can bring."

Emerging skills gap

And finally, a warning that as retailers try to innovate digitally from the head office to the warehouse and onto the shop floor or website, the industry will increasingly struggle to find the requisite talent.

Snyder said that as retailers recognise the value of AI and machine learning within the supply chain, the challenge in 2020 will be ensuring they have the in-house skills to take advantage of this.

"To put it bluntly, not many retailers have their own data scientists conveniently in situ," he stated. "To successfully implement they will need to focus on building skills internally, investing in the training that will make AI work in practice."

Gartner's forecast suggested upskilling in-store associates to perform a wider variety of specialised tasks, while trying to retain skilled and productive staff.

"To mitigate labour constraints, retailers can collaborate to enable a shared workforce will include more freelance, part-time and limited-term employment," read the report. "This is the expectation of the Millennial and Generation Z cohort as they become the mainstay of both consumer and labour markets – retailers must start incorporating this into their digital workplace models, just as they should pay careful attention to the current consumer focus on sustainability."

All AI everything

Machine learning and robotic automation are set for widespread implementation next year, with Sterneckert suggesting that AI can help optimise stretched promotional budgets.

"In the 20s, we predict that retailers and supplier will look to tech to ensure that the right customer is targeted at the right time and place – this will include AI to provide prescriptive recommendations about what, where, when, and how to promote items across the store."

He also suggested that machines will increasingly be relied upon to make sense of all the data that retailers process every day. "Try as they might, humans simply cannot normalise, compute, analyse and identify the meaningful trends and outliers as well as computers – machines will not replace humans in 2020, but with the rise of AI, we will see a shift to retailers learning from the data instead of just trying to figure out what to do with it."

David Nicholls, chief technology officer for retail and hospitality at Fujitsu UK, looked back to his predictions last year and was satisfied that AI has indeed played a bigger role in retail operations.

"UK retailers have been running trials of AI over the past year, which includes checkout-free stores, object recognition and bots that can determine shelf availability of products," he stated. "Amazon's pursuit of its physical, cashier-less stores has continued to disrupt the market, with a number of UK supermarkets also focusing on improving self-checkout."

Nicholls also predicted that AI would be applied in retail security - "and there has certainly been significant interest in applying the technology to identify threats of violence and weapons in-store" - while in 2020 he forecast the introduction of automatic age verification at the point of checkout.

"Many retailers have been on the periphery of this technology for the past 18 months, but there is a chance that one of them may bite the bullet next year, and as soon as one retailer takes the plunge, there's little doubt that others will follow."
Related Articles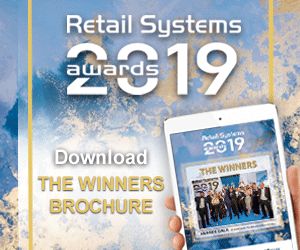 HULFT
Find out how HULFT can help you manage data, integration, supply chain automation and digital transformation across your retail enterprise.
Talking shop: retail technology solutions from Brother
Retail Systems editor Peter Walker sits down with Brother's senior commercial client manager Jessica Stansfield to talk through the company's solutions for retailers and hospitality businesses, what's new in labelling technology, and the benefits of outsourcing printing.
Most read stories...
World Markets
(15 minute+ time delay)