Online sales exceed 20% for the first time
Written by Peter Walker
20/12/18
In the three months to November, the quantity of retail sales showed an increase of 0.4 per cent when compared with the previous three months, due to growth in non-food stores and online retailing.

The latest Office for National Statistics (ONS) figures showed that online sales as a proportion of all retailing exceeded 20 per cent for the first time, with all online retailing accounting for 21.5 per cent of total retailing on a non-seasonally adjusted basis.

Non-seasonally adjusted average weekly spending online was £1.8 billion in November 2018, an increase of 13.1 per cent when compared with November 2017. Feedback from retailers across all sectors reported that Black Friday and related promotions had boosted sales in this period, the ONS noted.

Retailers reported strong growth due to Black Friday promotions in November, which continues the shifting pattern in consumer spending to sales occurring earlier in the year. The non-seasonally adjusted growth rate in November 2018 was 13.2 per cent in comparison with 8.7 per cent in November 2013.

Month-on-month from October, the quantity bought increased by 1.4 per cent, boosted by 5.3 per cent growth in household goods stores.

The largest contribution to the monthly growth in November was household goods stores, particularly the strong growth of 11 per cent seen in electrical household appliances. Retailers within this sector suggested that stores took advantage of Black Friday sales, with longer than usual promotions.

Andrew Westbrook, head of retail at RSM, said that given some of the recent warnings, he was expecting today's figures to be bleak.

"In fact, they were slightly better than we'd anticipated, with retailers reporting a five per cent year on year rise in the amount spent by shoppers, reflecting the impact of Black Friday promotions.

"Online Black Friday promotions helped push up online sales as a proportion of overall retailing to their highest ever level," he continued. "However, the rate of growth in Black Friday sales overall appears to have slowed slightly this year. The headline figures mask a disappointing performance from clothing and footwear stores, where the month on month growth in spending was very subdued – up just 0.3 per cent."

Manu Tyagi, associate partner for retail and consumer goods at Infosys Consulting, said the sales figures show that we're far from the final nail in the coffin for the health of the UK High Street.

"In fact, November's figures show that physical stores are still raking in 78.5 per cent of all retail sales. While e-commerce grew to 21.5 per cent of overall sales in November, in-store sales still dwarf online," he stated.
Related Articles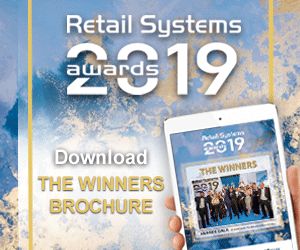 HULFT
Find out how HULFT can help you manage data, integration, supply chain automation and digital transformation across your retail enterprise.
Talking shop: retail technology solutions from Brother
Retail Systems editor Peter Walker sits down with Brother's senior commercial client manager Jessica Stansfield to talk through the company's solutions for retailers and hospitality businesses, what's new in labelling technology, and the benefits of outsourcing printing.
Most read stories...
World Markets
(15 minute+ time delay)