GDPR right to be forgotten an 'opportunity for retailers'
Written by Peter Walker
16/05/18
With less than 10 days to go until General Data Protection Regulation (GDPR) enforcement, only 40 per cent of companies expect to achieve compliance after the 25 May deadline.

The figures come from a Ponemon survey of 1003 individuals - 582 in the United States and 421 in the European Union - across a variety of companies and departments, including information technology, IT security, compliance, legal, data protection and privacy.

Non-compliance fines start at €20 million or four per cent of annual global turnover, but relationship marketing firm Optimove, suggested the real danger to retailers will be the potentially crippling effect of the 'right to be forgotten' rule.

To persuade consumers to continue sharing their information, brands need to prove to their customers that they are benefitting from handing over their data. Pini Yakuel, chief executive of Optimove, said customers are becoming increasingly aware of the value of their personal data, and frustrated if they feel it is being taken for granted and not improving the service they receive.

"Data needs to be used to provide unique insight on what works for each person, in order to empower an emotionally intelligent conversation with the customer – brands can no longer rely on standardised, identical marketing emails," he stated.

Yakuel pointed out that personalised conversations with customers are not new to the shopping experience, as shopkeepers from the 1950's kept up personal relations with all their local customers, taking the time out to understand their shopping habits and preferences.

"This would not only help them ensure customer loyalty, but also enable them to provide a seamless shopping experience for their customers," he concluded. "As this relationship travelled through time, it has become increasingly virtual and intangible –aided by technology and artificial intelligence."

Meanwhile, research from network protection firm EfficientIP - which interviewed 1,000 businesses across nine countries - found that respondents are prioritising technology investment on the monitoring and analysis of Domain Name System (DNS) traffic (38 per cent) over conventional security solutions such as firewalls (21 per cent) and endpoint protection (35 per cent).

It also found that the UK financial sector is spending an average of £590,000 on GDPR preparations, behind the French financial sector (£962,000) and the German financial sector (£1,205,000).
Related Articles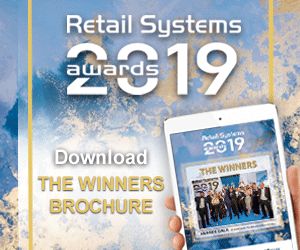 HULFT
Find out how HULFT can help you manage data, integration, supply chain automation and digital transformation across your retail enterprise.
Talking shop: retail technology solutions from Brother
Retail Systems editor Peter Walker sits down with Brother's senior commercial client manager Jessica Stansfield to talk through the company's solutions for retailers and hospitality businesses, what's new in labelling technology, and the benefits of outsourcing printing.
Most read stories...
World Markets
(15 minute+ time delay)